ENERGY SAVINGS IN STRETCH AND BLOW PROCESSES
A few months ago, AIRPROFIL proudly announced on this website the principal goal of eradicating « 7 usages of compressed air, » such as within drying or cooling processes.
Today, we would like to highlight one more usage of compressed air: the use of high pressure compressed air (usually from 26 to 33 barG) in Stretch and Blow production of Polyethylene terephthalate (PET) bottles. This usage cannot be suppressed (so far) but can be very significantly reduced by means of a strong reduction of the blowing pressure.
A brilliant innovation of one small French enterprise makes it possible for you to reduce by about 50% your power consumption for compressed air used on your PET bottles blowers.
UNDERSTANDING IMPLIED PHYSICAL LAWS
This is made possible by a new design of « Low Pressure Moulds. » By means of shrewd metal work, "Moulds Super Eventation" of the air included between preform and mould is made much easier. When you take a Low Pressure Moulds mould into your hands and hold it in front of your eyes, you can see natural light through the mould!
The blowing pressure is reduced from an initial value between 26 and 33 barG to a much lower value between 15 to 20 barG:

Compressed air saving is proportional to the absolute pressure reduction. If you reduce blowing pressure, for example, from 30 bar (absolute pressure) to 20 bar (absolute pressure), you will save one third of your initial compressed air consumption.
Moreover, as pressure is reduced so is the electrical consumption for AIRPROFILh cubic meter of air you compress. In our example, you would save 12% energy.
By means of more classical methods, you can save a few more percentage points!
All in all, you will save about half of your present energy consumption, it depends on the efforts you may have made already to reduce pressure, and then you may also blow better bottles than you used to!
ACCOMPANYING THE EVOLUTION OF COMPRESSED AIR NEED
When you start using Low-Pressure-Moulds on your blowers, your air compressors will become oversized and your compressed air dryers may become less oversized as they used to, or even become undersized.
Your distribution network usually may remain slightly oversized if it was oversized initially. Pressure drop may go up a bit, but not much. It should be checked, anyway.
So there is some adaptation of your compressed air installations to carry out. Sometimes, it is possible to modify an existing compressor. Often, you may have to buy a new compressed air dryer and some new filters. It usually makes sense to install some measurement instrumentation – often non invasive ultrasonic flowmeters for compressed air which will be installed for you by a French Engineer for a few days.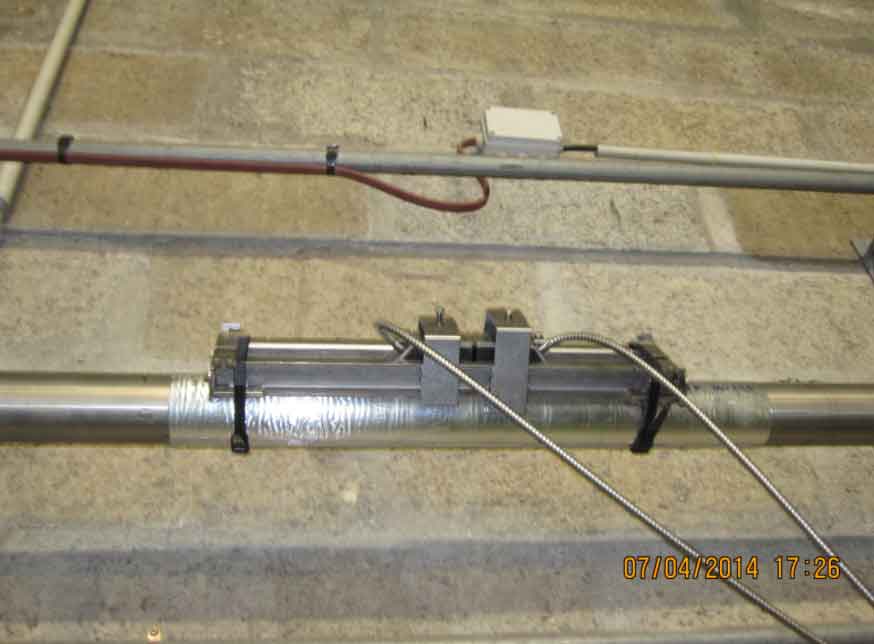 Non invasive ultrasonic flowmeter for compressed air
One last very useful service may be the quick training of COMPRESSED AIR USERS, which lasts about 3 hours and includes SAVINGS, QUALITY, and SAFETY aspects. AIRPROFIL also offers training of plant MANUFACTURING AND MAINTENANCE DECIDERS, which lasts 7 hours. We believe that it is always a good thing to explain to people why they should start one less compressor – and maybe one more dryer – than they used to.
In order to carry out this accompaniment of change in your plants, AIRPROFIL will cooperate with partners specialized in maintaining and modifying reciprocating compressors all other the world.
A study may prepare the way to much better energy performance and reduced investments in your plants.
We are ready to answer your questions and meet you in order to set the content of a compressed air study as well as measurement and training projects in your plants.

Best regards
François BOUTEILLE


Manager of AIRPROFIL (France) and of the website www.airprofil.com
Ingénieur du Conservatoire National des Arts et Métiers
Tel : +33 612 156 155 ou +33 5 49 48 35 43